Sandwichpanelrullformningsmaskin
Starka tekniska resurser är den mest stabila garantin för våra produkters kvalitet. Vi antar dataprogram för designteckning, ritning av produktion och installationsritning för stålkonstruktionsutrustning. Vi antar avancerad dator digital inspektion och tillverkar högkvalitativ lätt stålkonstruktion utrustning. Vår tekniska uppdatering dag för dag!

| | |
| --- | --- |
| Voltage: 380V/50-60Hz | Power: 32kw |
| Productivity: 0-4m/min | Material with:1000mm, 1200mm |
| Material thickness: 50-250mm | Annual output: 600,000m2 |
| Beading Equipment Speed:10m/min | Power:2.2kw or according to the profile |
| Diameter of roller:according to the profile | Power supply:motor |
| Material of roller:l 40Cr quenched and tempered, chrome | Power: 32kw |
Specifikationer
Denna linje kan ställas in enligt kundernas behov, längd positioneras styrd av dator. Det kan vara exakt positionerat, och visas tidvis på pekskärmen, liksom automatiskt räkna och revidera. Denna linje som passar för att bearbeta yttersidan av sandwichpanelen, materialark är färgad stålplåt, aluminiumplåt, rostfritt stålplåt och så vidare.
Användning: Den används för att stödja stålspolen och lossa den. Stålspolen är expansion med hand.
Laddningskapacitet: 3T
Inre diameter: 450-508mm
Main Roll Forming Machine
Den är utformad enligt kundens profilritning. Den antar motorreducerande drivning, kedjeöverföring, polering av rulleytor, hårdplätering, värmebehandling och galvaniseringsbehandling. Den polerade ytan och värmebehandlingen mot formarna kan också hålla ytan på gjutplattan jämn och inte lätt att markera när den stämplas.
Skärmekanism
Den adopterar hydrauldriven och automatisk plats för att bestämma dimensionen och skära målprodukterna.
Bladblad: Cr12
Datorkontrollskåp
Det antar Delta / Siemens PLC att styra. Målstyckets längd är justerbar och siffra av den kan justeras. Beräkningsläge har två lägen: automatisk och manuell en. Systemet är lätt att använda och använda.
Vårt bolag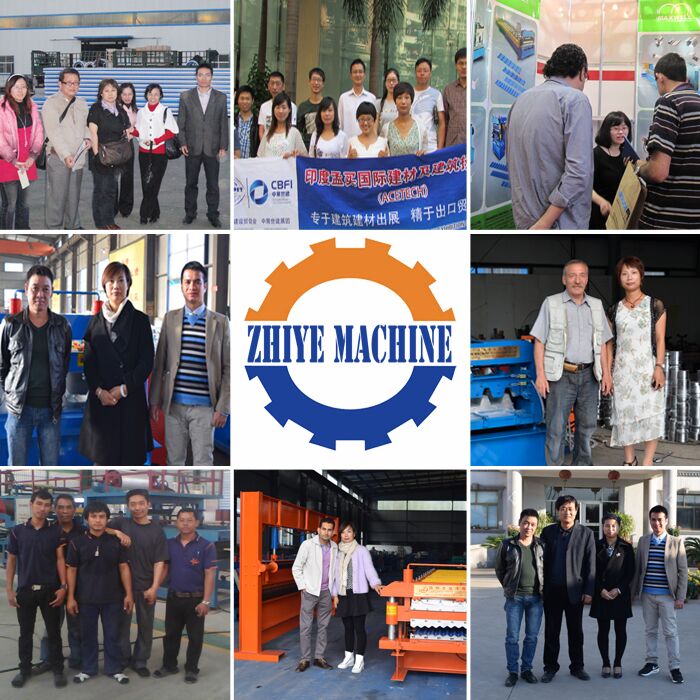 Cangzhou Zhiye Cold Forming Machinery Co, Ltd har varit berättigad till [nyckel privat företag "av kommunen och genom åren har vi varit dedikerade till forskning och utveckling samt tillverkning av formningsmaskiner av metallplatta kallbockningsvals .
Vårt företag ligger vid den 104 nationella vägen i Cangzhou, Botou City, som har blivit berömd som de [berömda gjutstäderna "i Kina. Det täcker ett område på mer än 30000 kvadratmeter och där nästan hundra anställda är professionella talanger i relevanta domäner. Våra huvudprodukter är: tak- / väggpanelvalsformningsmaskiner, plattformningsmaskiner, C / U / Z-rullformningsmaskiner, golvbeläggningsvalsformningsmaskiner, stålrullformningsmaskiner, rörvalsformningsmaskiner. Vi kan skräddarsy konstruktionen och tillverkningen på den speciella typen av maskin och ansvara för fullständig implementering av posttjänsten, inklusive teknisk instruktion, produktion, avbetalning, debugging, underhåll och så vidare.
Vi har lagt fram en nyutvecklad högteknologisk produkt-KDQ-typ av uppmätt skärningskontrollsystem, som har integrerat mätningen, övervakning av varningssystemen tillsammans och med den höga startpunkten, exakt mätning, användarvänlig och omfattande övervakning.
Förpackning och leverans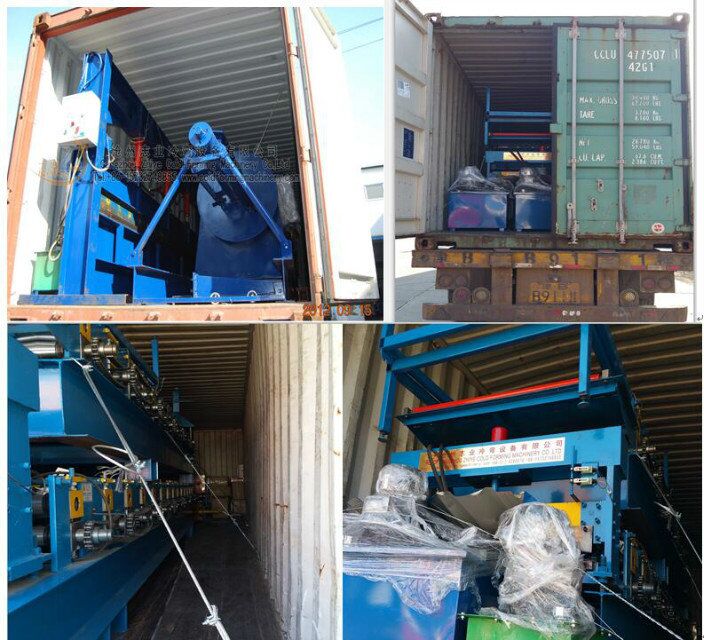 Våra produkter används ofta i olika industrifabriker, skönhetsplats, semesterbybyggnad, hotell, utställning, lätt stålbyggnadstillverkning och har funktioner som fint utseende och hållbart.
Inom ett år om några delar går sönder skickar vi nya till att ersätta gratis, efter garantiperioden hjälper vi dig att reparera maskinen, du är endast ansvarig för arbetet och delar om maskinen har några problem.
certifiering


FAQ
Fråga: Är du tillverkare?
A: Ja, vi är tillverkare och handelsföretag.
Fråga: Vilken typ av betalningsterm du kan göra?
A: Vi är flexibla om betalningsvillkor, var god kontakta oss för mer information.
Fråga: Vilken information behöver du innan du gör förslaget till en rullande maskin?
A: Profilritningarna, materialinformationen, dina speciella krav.
Fråga: Vad ska jag göra om jag bara börjar lära mig rullande maskiner?
A: Kontakta oss genast, vi tillhandahåller gratis konsult före försäljning.
F: Hur besöker vi vårt företag?
1.Fly till Peking flygplats:
Med höghastighetståg Från Peking Nan till Cangzhou Xi (1 timme), då kan vi hämta dig.
2.Fly till Shanghai flygplats:
Med höghastighetståg Från Shanghai Hongqiao till Cangzhou Xi (4,5 timmar), då kan vi hämta dig.
3.Fly till Guangzhou Aiport:
Med flyg Från Guangzhou till Peking airtpot; Med höghastighetståg Från Peking Nan till Cangzhou Xi (1 timme), då kan vi hämta dig.
Kontakta oss

Produktkategorier : Sandwichpanelrullformningsmaskin