Glaserad Tile Roller Tidigare Making Line
Allmän information för glasade Tile Roller Tidigare Making Linje
Kakelplattorna som tillverkas av denna maskin används i stor utsträckning i alla typer av fabriker, hus, lager och enkelt stålskur och med vackert utseende, hög effektivitet och tillförlitlig arbetskraft. Det består av matningsplattform, huvudformkärna, skärmekanism, hydraulisk station, Dator kontroll skåp, hög precision räknare och så vidare.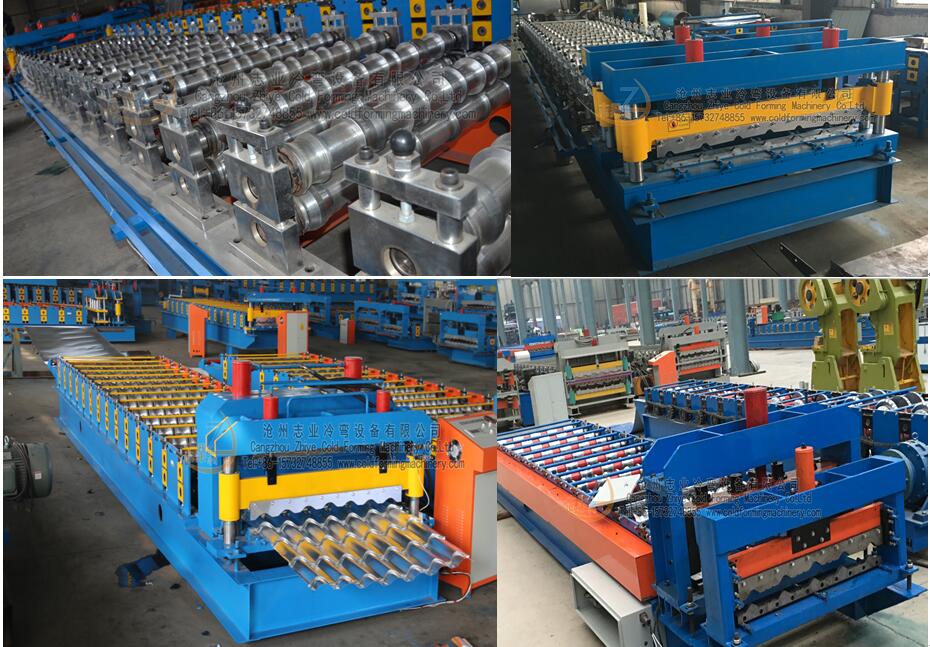 1. De Pamaters av glasade Tile Roller Tidigare Making Linje
| | | |
| --- | --- | --- |
| 1 | Processing Material | PPGI;GI |
| 2 | Processing Thickness | 0.3-0.8mm |
| 3 | Material of Roller | 45#steel |
| 4 | Material of Shafts | 45#steel |
| 5 | Total Power | 8kw |
| 6 | Material of Cutting Blades | Cr12 |
| 7 | Brand of PLC | Delta/Mitsubishi/Siemens |
| 8 | Production Speed | 10-15m/min |
| 9 | Brand of Frequency Converter | Delta/Mistubish/or as clinets requirements |
| 10 | Transmission Type | Chain transmission+Decelerating motor |
| 11 | Voltage | 380V 50HZ or as clinets requirement |
| 12 | Cutting Type | Mold Cutting |
Maskin detaljer
Reservdelarna av den glaserade kakelrullen tidigare tillverkningslinjen
1. Manuell Decoiler och hydraulisk helautomatisk stil del
Användning: Den används för att stödja stålspolen och avkolla den på ett vridbart sätt. Passiv uncoil dras av rullande system
2. Spole matning del
Användning: Sätt råmaterialet (stålplatta) genom stranden för att tillverka och bearbeta, kan det garantera att produkterna är snyggt, parallella och allt är likformighet.
3.Main roll forming maskin del
Användning: För att hålla produkten form och precision, antar svetsad arkstruktur, motorreducerare enhet, kedjetransmission, vals kromat som kan hålla formplattan ytan slät och inte lätt att märkas när den arbetar
4.Automatiskt skärsystem
Komponenter: Den innehåller en uppsättning blad, en hydraulisk tank och en skärmaskin
5. Dator styrning delar
1) .PLC varumärke: Normalt är det Delta. Mistubishi, Panasonic, Siemens är valfria. 2). Arbetsmodell: helautomatisk och manaul.
6. Hydraulisk station
1) .including en motor, en oljetank, en magnetventil, en tryckmätare, hydraulolja röret, 2) .3kw, 4kw, 5.5kW, kommer att antas som per din profil arket.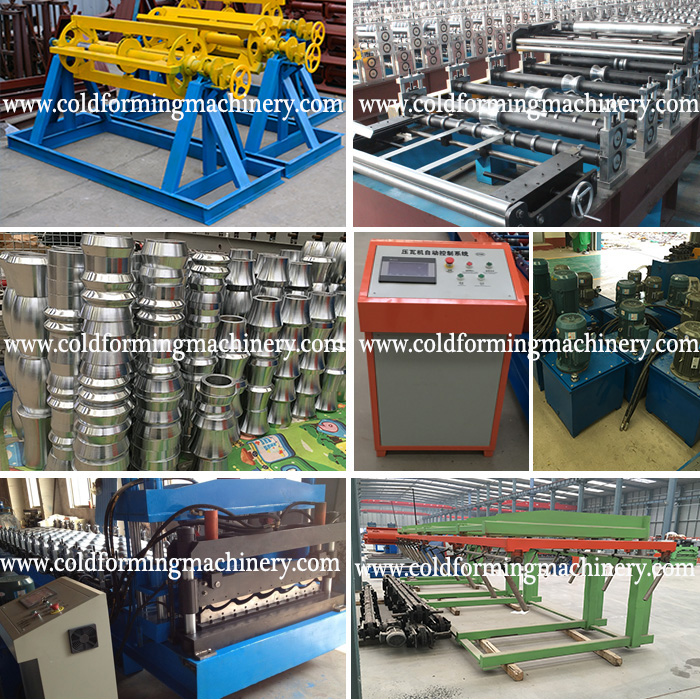 Förpackning och frakt
Glazed Tile Roller Tidigare Göra Line kan laddas i en 20 "eller 40" behållare. Huvudrullformningsmaskindelen är naken packad medan datorn och motordelen är fylld med vattenbeständig trasa.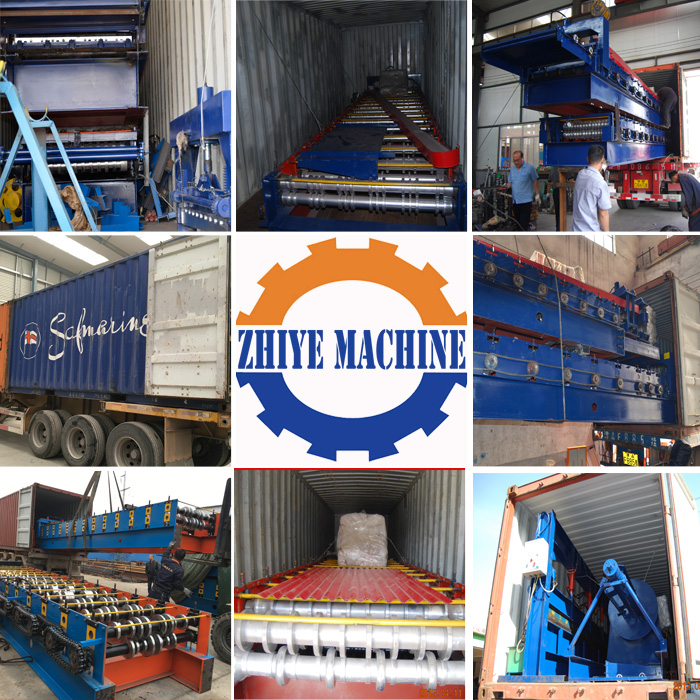 Företagsinformation
Cangzhou Zhiye Cold Forming Machinery Co, Ltd är tillverkaren specialiserad på olika kallformning Maskiner och automatiska produktionslinjer. Huvudprodukter är: 1. takläggning / väggpanel rullformningsmaskiner, 2. kakel valsformningsmaskiner, 3. C / U / Z upplagsbalk valsformningsmaskiner, 4. golvgallergolv rullformningsmaskiner, 5 stålrullbussformningsmaskiner, 6. röret vals formningsmaskiner, 7. Kakelplatta Roller Fd Making Linje
Under de senaste åren har våra produkter på stora skalor sålts till mer än 50 länder och regioner, Thailand, Indien, Malaysia, Turkiet, Saudiarabien, Ryssland, Albanien, Armenien, t han USA, Grenada, Bolivia, Colombia, Chile, Sydafrika, Kenya, Tanzania, Egypten och så vidare, och har vunnit universell uppskattning och pris från kunder över hela världen.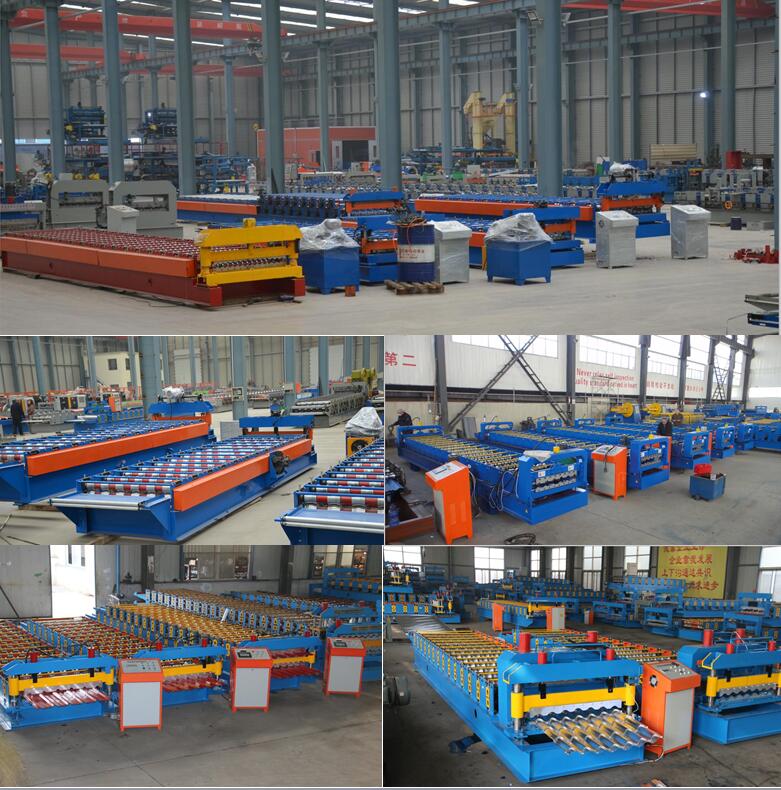 Utställningsshow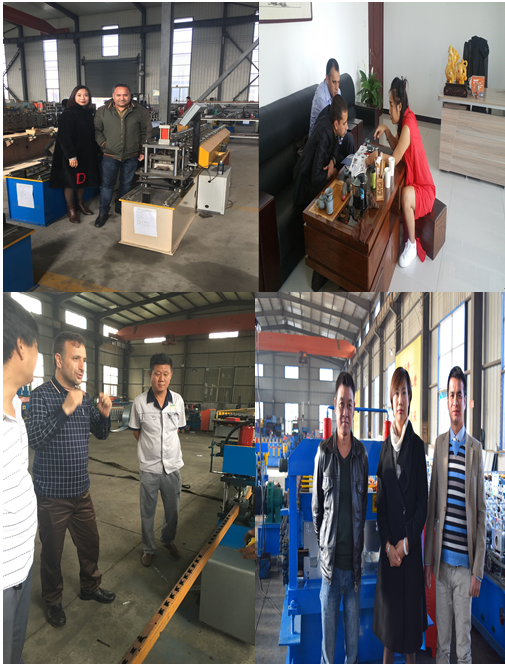 Cetificate

Kontakta oss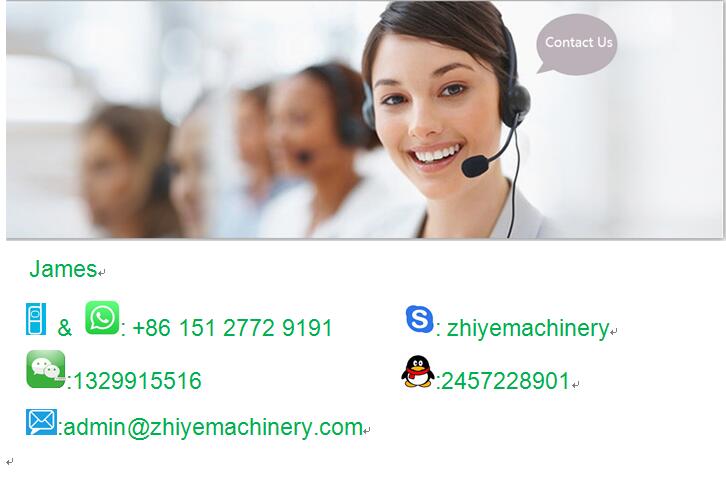 Produktkategorier : Golvbelagd takplattform